Young and Talented
While enjoying my customary weekend afternoon of not cashing tickets at Saratoga, I noticed this in my timeline:
Trainer Liam D. Benson waiting out Tyro Stakes stewards inquiry @MonmouthPark. His horse was not DQed & paid $96.60 pic.twitter.com/yMCCJthxe5

— Ray Paulick (@raypaulick) August 9, 2015
"Wow that guy looks young, must be the angle or something" was my thought right after wishing I had a ticket paying $96.60, or anything, really. As the tweets rolled in it became apparent that it wasn't just the angle, this guy really is young!
Expected Ruler gets an 80 Beyer winning today's Tyro Stakes @MonmouthPark for 20-year-old trainer @liamdbenson, his 1st career stakes win.

— Kenny Peck (@DRFPeck) August 10, 2015
And not only is he the trainer, he's breeder, owner AND trainer.
Congrats @liamdbenson, OWNER TRAINER BREEDER of debut winner Expected Ruler in Tyro Stakes @MonmouthPark

— Frank Mirahmadi (@FrankMirahmadi) August 9, 2015
And how about his crazy longshot 2-year-old Expected Ruler? He too appears to be talented, check his the time of last split and compare it to the rest of the field (chart via TimeformUS)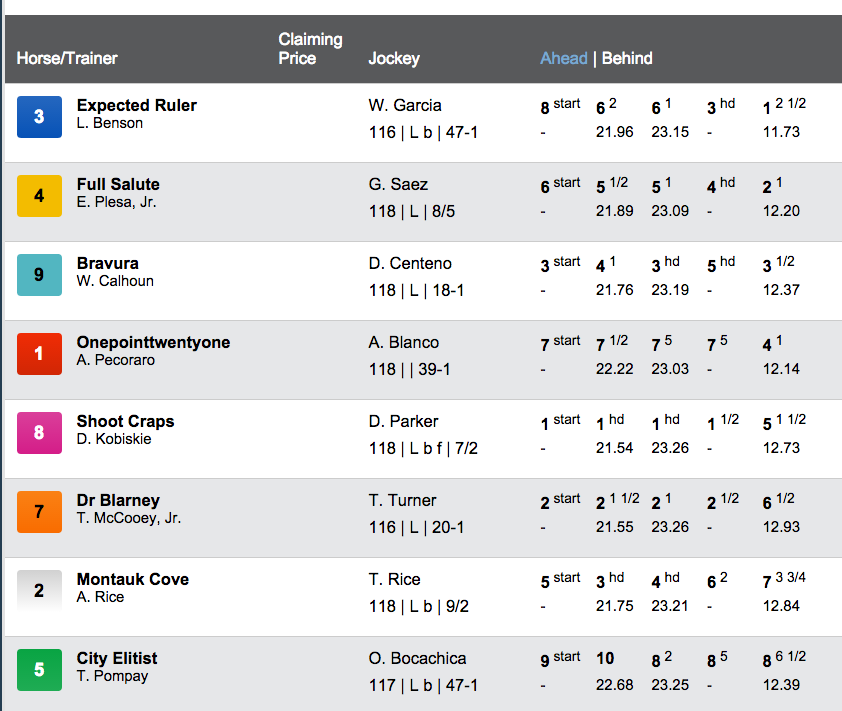 You can catch the replay here and follow Liam Bensen here. And, I seriously hope this happens:
I think I'll start a Gofundme to nominate Expected Ruler for the BC, @liamdbenson

— Chase (@DChaseMullins) August 9, 2015
I'd love to add "First crowdsourced Breeders' Cup entry" to this year's Breeders' Cup History Watch at Raceday 360, the closest we've gotten was Ben's Cat in 2011.
In other news of the internet, this happened today:
@BklynBckstretch maybe someone (who is not me) needs to do a "brief history of racing fans on the internet"

— dana byerly (@superterrific) August 10, 2015
Which lead to plenty of fun discussion and reminiscing, and then this:
Where did you find racing on the internet? Websites, blogs, forums…let @superterrific know. The older, the better https://t.co/WqHAeukDBT

— Teresa Genaro (@BklynBckstretch) August 10, 2015
We've collected a pretty good list, check it out and add whatever is missing and I'll do a post later in the week.